Newsletter 27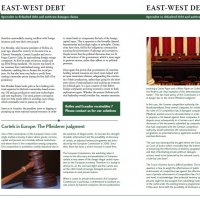 In this edition:
European Cartels: Facts and Figures
Libya: new heroes and thugs, with whom have you been doing business?
Bolivia: how foreign investors turn into State sponsors
Cartels in Europe: the Pfleiderer judgment
How does sovereign risk affect bank funding conditions?
Iran: a grumbling oil economy with sand in the gears
Turkmenistan: slow move towards a market based economy
Venezuela: when the talk does not match the walk, Chavez's 21st century
In order to read the newsletter, please click on the link below. The file will open in PDF format.
Subscribe to our newsletter