Newsletter 28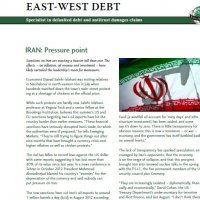 In this edition:
Claim funding in Europe
Iran: Pressure point
How are banks in the Gulf dealing with large-scale financial defaults?
EU Commission can bring follow-on actions for damages on behalf of EU in cartel cases
Ukraine: The enforcement of foreign court rulings
Antitrust in 2012: Few decisions, high fines
Update of the Arab Spring
Challenges for Venezuela
Argentina: Repsol files $10.5 billion ICSID claim
In order to read the newsletter, please click on the link below. The file will open in PDF format.
Subscribe to our newsletter